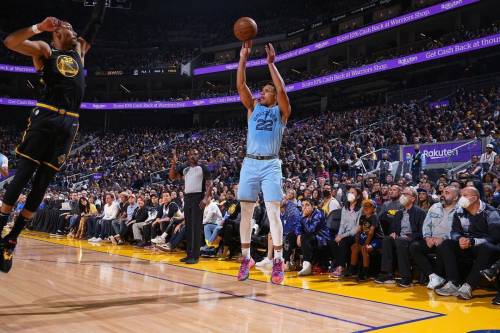 As we move further into May, sports fans will once again be treated to an exciting week of sport. On Monday, in San Francisco, the Golden State Warriors go up against the Memphis Grizzlies in the NBA's Western Conference Semifinals. The following day, the Lucknow Super Giants and the Gujarat Titans will battle it out hoping to claim the top spot in the IPL table. Wednesday will see the New York Rangers play host to the Pittsburgh Penguins in the Stanley Cup Playoffs.
Later in the week, on Thursday, Tottenham go head-to-head with Arsenal in the Premier League with both teams fighting for the last Champions League spot. The next day, athletes will head to Doha for the first Diamond League event of this year's season.
There is no shortage of exciting sport on the weekend either. On Saturday, Chelsea and Liverpool will meet at Wembley with both teams desperate to take home the FA Cup. Finally on Sunday, teams and riders will tackle stage 9 of the Giro d'Italia, a tricky 191km mountain stage.
NBA: ​​Golden State Warriors v Memphis Grizzlies
Monday 9th May 2AM (10th) GMT/7PM Local Time
Chase Center, San Francisco
The Memphis Grizzlies take on the Golden State Warriors in the fourth game of their Western Conference Semi-final. With the Warriors holding a slim lead in the series, the Grizzlies will be keen to take the win and draw level at 2-2.
Official site: NBA
Merchandise: NBA Store
Viewing: NBA TV
Podcast: ​​Open Floor: NBA Show
Blog: Golden State of Mind
Blog: Grizzly Bear Blues
Tuesday 10th May 2PM GMT/7:30PM Local Time
Maharashtra Cricket Association Stadium, Pune
With the Lucknow Super Giants and the Gujarat Titans sat 1st and 2nd in the IPL table respectively, this matchup is not one to miss. Which one of these new teams will take the win and go clear at the top of the table?
Merchandise: Fancode Shop
News: Indian Premier League
News: Republic World
Videos: Indian Premier League
Statistics: ESPN Cricinfo
News: Cricket Times
NHL: New York Rangers v Pittsburgh Penguins
Wednesday 11th May 11PM GMT/7PM Local Time
Madison Square Garden, New York
The Pittsburgh Penguins travel to the famous Madison Square Garden to take on the New York Rangers on Wednesday, in what will be the 5th game of their Playoff battle. The Penguins currently lead 2-1, but with the two teams potentially playing 4 games this week, it is anyone's guess who will end up on top.
Viewing: NHL Live
News: NHL
Fantasy: NHL Fantasy
Merchandise: NHL Shop
Blog: Blueshirt Banter
Blog: Pensburgh
Thursday 12th May 6:45PM GMT/7:45PM Local Time
​​Tottenham Hotspur Stadium, London
Sat alongside one another in the Premier League table, this North London derby between Tottenham and Arsenal is an incredibly important game for both teams. Separated by only 4 points, Tottenham will be desperate to take the win and get closer to the all important 4th spot in the table and claim a place in the Champions League for next season.
Merchandise: Tottenham Hotspur
Merchandise: Arsenal
News: BBC Sport
Statistics: Premier League
Fantasy: Fantasy Premier League
Videos: Premier League
Friday 13th May 5:28PM GMT/8:28PM Local Time
Khalifa International Stadium, Doha
Athletes will travel to Doha for the first Diamond League event of the year. The one day event will see athletes from across the world taking part in a number of events, all hoping to get their 2022 Diamond League campaigns off to a strong start.
Tickets: Q Tickets
News: Diamond League
Videos: Youtube
News: World Athletics
Statistics: Diamond League
News: Gulf Times
Saturday 14th May 3:45PM GMT/4:45PM Local Time
Wembley Stadium, London
The FA Cup comes to a close on Saturday after months of fierce competition. Last year's runners-up Chelsea will take on 7 time winners Liverpool at Wembley to decide who will take home the title. Can Jürgen Klopp's side take the win and draw level with Chelsea's 8 titles?
Official Site: The FA Cup
News: BBC Sport
Merchandise: Chelsea
Merchandise: Liverpool
Blog: We Ain't Got No History
Blog: The Liverpool Offside
Cycling: Giro d'Italia - Stage 9
Sunday 15th May 10AM GMT/12PM Local Time
Isernia, Italy
This year's Giro d'Italia is the 105th edition of the race. Sunday will see teams and riders tackle the difficult stage 9 from Isernia to Blockhaus, a 191km stage within which riders will be forced to climb over 5000m.
Official Site: Giro d'Italia
News: Cycling Weekly
Statistics: Cyclists Hub
News: Cycling News
Videos: Youtube
News: Eurosport
Photo by: Memphis Grizzlies
Written and information correct on 8th May 2022 at 10pm GMT
Use the full Fixture Calendar website to explore all the world's sporting events.