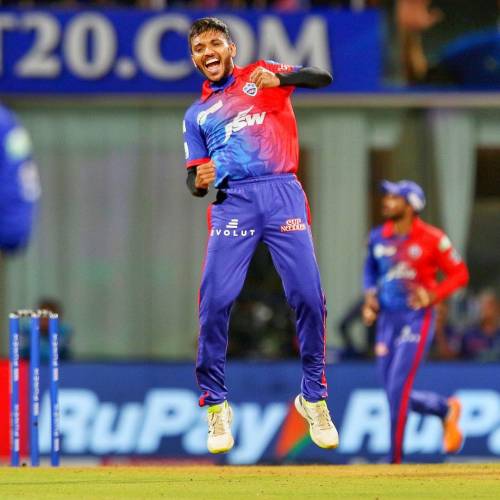 With exciting sporting action taking place around the world, sports fans are in for a treat once again this week. On Monday, in the IPL, the Punjab Kings and Delhi Capitals will fight it out hoping that a win will help them secure a Playoff spot. The following day, the Boston Celtics head south to Miami for the first game of their Eastern Conference Finals against the Miami Heat. Wednesday will see the Europa League reach its climax as Eintracht Frankfurt take on Rangers in the Final.
Later in the week, on Thursday, players head to Southern Hills for the first round of the PGA Championship, the second Major of the season. On Friday, Carlton play host to the Sydney Swans in Melbourne in what will be an exicitng game for AFL fans.
There is no shortage of exciting sport at the weekend either. On Saturday, athletes will head to Birmingham for the second event of the Diamond League season. Finally, on Sunday the Premier League will draw to a close with battles raging on at both the top and bottom of the table.
Monday 16th May 2PM GMT/7:30PM Local Time
Dr. DY Patil Sports Academy, Navi Mumbai
The Punjab Kings go head-to-head with the Delhi Capitals on Monday. With the IPL Playoffs drawing ever closer the Capitals and Kings, currently sat in 5th and 7th place respectively, will be desperate to take the win in this game and get closer to claiming a spot in the Eliminator Playoff.
Merchandise: Fancode Shop
News: Indian Premier League
News: Cricket Addictor
Videos: Indian Premier League
Statistics: ESPN Cricinfo
News: Cricket Times
NBA: Miami Heat v Boston Celtics
Tuesday 17th May 12:30AM (18th) GMT/8:30PM Local Time
FTX Arena, Miami
After taking victory in a game 7 encounter with last year's NBA champions the Milwaukee Bucks, the Boston Celtics travel south to Miami to take on the Miami Heat in the Eastern Conference Finals. Who will start the series with a win?
Official site: NBA
Merchandise: NBA Store
Viewing: NBA TV
Podcast: ​​Open Floor: NBA Show
Blog: Hot Hot Hoops
Blog: Celtics Blog
Wednesday 18th May 7PM GMT/9PM Local Time
Ramón Sánchez Pizjuán Stadium, Seville
Eintracht Frankfurt take on Rangers in what is an undoutedly exciting prospect for fans of both teams. Rangers have already knocked out two German teams on their way to the final, having beaten Borussia Dortmund and RB Leipzig. Can they do it again and lift the Europa League trophy on Wednesday?
Official site: UEFA
News: BBC Sport
Merchandise: UK Soccer Shop
News: Sky Sports
Statistics: UEFA
Videos: Youtube
Golf: PGA Championship
Thursday 19th May 1PM GMT/8AM Local Time
​​Southern Hills Country Club, Tulsa
The world's best players will head to the renowned Southern Hills Country Club this week, all hoping to take home the second major title of the season. Tiger Woods is once again the big story in the lead up to this tournament, with fans hoping he can build on his strong performance at the Masters and compete at the front through all 4 days of play.
Official site: PGA Tour
News: BBC Sport
Fantasy: PGA Tour
News: Sporting Life
Podcast: The Fried Egg Podcast
News: PGA Tour
AFL: Carlton v Sydney Swans
Friday 20th May 9:50AM GMT/7:50PM Local Time
Docklands Stadium, Docklands
With Carlton and the Swans sat 4th and 5th in the AFL table respectively, this is an important game for both teams. Carlton will be hoping to continue their impressive run of form and win their 4th game on the bounce. However, a win for the Swans would draw the two teams level on points.
Official Site: AFL
News: Kayo Sports
Fantasy: Fantasy AFL
Merchandise: The AFL Store
Stats: AFL
News: The Roar
Saturday 21st May 3PM GMT/4PM Local Time
Alexander Stadium, Birmingham
After exciting action in Qatar last week, the world's top athletes will make the trip north to Birmingham for the second Diamond League event of the season. Competitors will be hoping that conditions in Birmingham are an improvement on last week, after a windy and difficult day in Qatar.
Tickets: Ticket Factory
News: Diamond League
Videos: Youtube
News: World Athletics
Statistics: Diamond League
News: Lets Run
Sunday 22nd May 3PM GMT/4PM Local Time
United Kingdom
With storylines at both the top and bottom of the table, fans will not want to miss a moment of Sunday's Premier League action. At the top, can Aston Villa upset Manchester City and blow the title fight wide open? At the bottom, which team will we no longer see in the Premier League next season?
News: ​​Sky Sports
Statistics: Premier League
News: BBC Sport
Fantasy: Fantasy Premier League
News: Mirror
Videos: Premier League
Photo by: Delhi Capitals
Written and information correct on 15th May 2022 at 10pm GMT
Use the full Fixture Calendar website to explore all the world's sporting events.