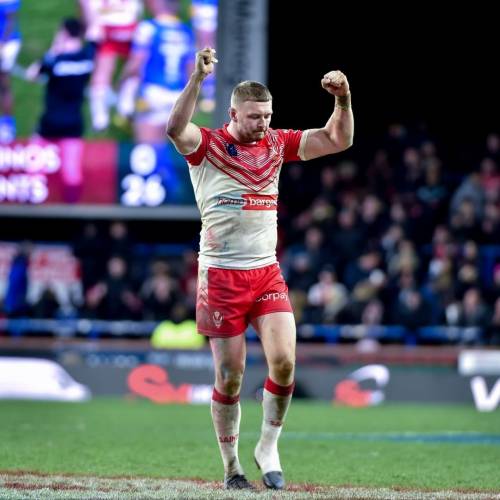 The second full week of April is shaping up to be an incredibly exciting week of sport for fans across the world. On Monday, the action continues at the Monte-Carlo Masters, as players battle it out for the ATP Tour 1000 title. The following day, in the Champions League, Bayern Munich play host to Villarreal in the second leg of their Quarter-final tie. On Wednesday, the Atlanta Hawks take on the Charlotte Hornets with both teams looking to reach the NBA Playoffs.
Later in the week, on Thursday, one of the IPL's new franchises the Gujarat Titans take on the Rajasthan Royals. Friday will see long standing rivals St Helens and Wigan Warriors go head-to-head in the Good Friday Derby.
Finally, at the weekend, Manchester City take on Liverpool in a hotly anticipated FA Cup Semi-final and the Nashville Predators play host the St. Louis Blues in what will undoubtedly be an exciting NHL game.
Tennis: ​​The Monte-Carlo Masters
Monday 11th April 10PM GMT/12PM Local Time
Monte Carlo Country Club, Monte Carlo
The Monte-Carlo Masters is an ATP Tour 1000 event and attracts some of the world's top players. Can Stefano Tsitsipas defend his Monte-Carlo Masters title or will number 1 seed Novak Djokovic recover from his slow start to the season to win the event for a third time?
Official Site: ATP Tour
News: Tennis Connected
Podcast: The Tennis Podcast
Video: ATP Tour
Blog: Love Tennis Blog
News: ATP Tour
Tuesday 12th April 7PM GMT/9PM Local Time
Allianz Arena, München
Bayern Munich's 1-0 loss to Villarreal in the first leg of their Champions League Quarter-final tie was a shock to many. Fans of the 6 time Champions League winners will have to hope that playing at home will help the German outfit overcome Villarreal and progress to the Semifinals.
Official site: UEFA
News: Sports Mole
Games: UEFA
Podcast: Official UEFA Champions League Podcast
Statistics: UEFA
Videos: YouTube
NBA: Atlanta Hawks v Charlotte Hornets
Wednesday 13th April 11PM GMT/7PM Local Time
State Farm Arena, Atlanta
These two Southeast division rivals will go up against one another in the East 9-10 game, with the loser eliminated from playoff contention and winner still in with a chance of reaching the full playoffs. With the pair's head-to-head record this season sat at 2-2, this is a game fans will not want to miss.
Official site: NBA
Merchandise: NBA Store
Viewing: NBA TV
Podcast: ​​Open Floor: NBA Show
Blog: PeachTree Hoops
Blog: At The Hive
Thursday 14th April 2PM GMT/7:30PM Local Time
Dr. DY Patil Sports Academy, Navi Mumbai
With the Rajasthan Royals and Gujarat Titans sat 1st and 3rd in the IPL standings, Thursday's match is not one to miss. The Titans, a new franchise to join the league this year, have had a strong start to the season and will look to continue their good run of form having already won their first 3 games.
Merchandise: Fancode Shop
News: Indian Premier League
News: Hindustan Times
Videos: Indian Premier League
Statistics: ESPN Cricinfo
News: Cricket Times
Super League: St Helens v Wigan Warriors
Friday 15th April 2PM GMT/3PM Local Time
Totally Wicked Stadium, Saint Helens
The Good Friday Derby between fierce rivals St Helens and Wigan Warriors is an exciting prospect for fans of both teams. This edition of one of the competitive derbies in the world is made even more exciting by the fact that both teams are sat at the top of the Super League table. Who will take the win?
Official Site: Super League
Fantasy: Fantasy Super League
Blog: Love Rugby League
Podcast: The Sideline Story
Merchandise: St Helens
Merchandise: Wigan Warriors
FA Cup: Manchester City v Liverpool
Saturday 16th April 2:30PM GMT/3:30PM Local Time
Wembley Stadium, London
After a 2-2 draw in what could have been a decisive Premier League game last weekend, Manchester City go up against Liverpool once again on Saturday in the FA Cup Semi-finals. With a draw in this semi-final game out of the question, which of these English football heavyweights will advance to the Final.
Official Site: The FA Cup
News: BBC Sport
Merchandise: Manchester City
Merchandise: Liverpool
Blog: Bitter and Blue
Blog: The Liverpool Offside
NHL: Nashville Predators v St. Louis Blues
Sunday 17th April 10PM GMT/5PM Local Time
Bridgestone Arena, Nashville
This exciting Central Division matchup will see the in form St. Louis Blues travel to Nashville to take on the Predators. Despite playing away from home, the Blues will be a tough opponent for the Predators having won their last 5 games on the bounce.
Viewing: NHL Live
News: NHL
Fantasy: NHL Fantasy
Merchandise: NHL Shop
Blog: On The Forecheck
Blog: St Louis Game Time
Photo by: St Helens
Written and information correct on 10th April 2022 at 10pm GMT
Use the full Fixture Calendar website to explore all the world's sporting events.