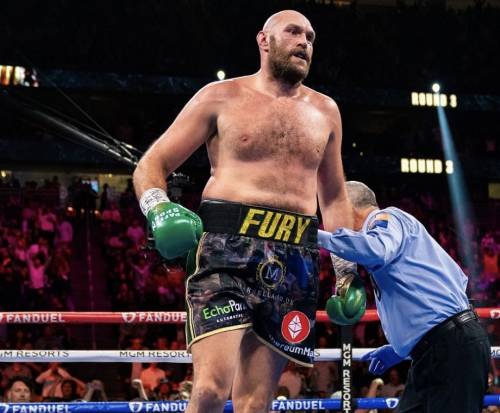 The last full week of April is an incredibly exciting prospect for sports fans, with action taking place all around the world. On Monday, in the IPL, the Rajasthan Royals take on the Kolkata Knight Riders in an important matchup between the 5th and 6th placed teams in the table. The following day Liverpool play host to Manchester United at Anfield in the Premier League. Wednesday will see another exciting Premier League matchup between Chelsea and Arsenal at Stamford Bridge.
Later in the week, on Thursday, the Minnesota Timberwolves take on the Memphis Grizzlies in an exciting NBA Western Conference playoff game. The following day, in the NHL, the Colorado Avalanche travel to Edmonton for their game against the Oilers, a matchup fans will not want to miss.
On Saturday boxing fans are in for a treat as Tyson Fury looks to defend his WBC World Heavyweight crown against Dillian Whyte at Wembley Stadium. Finally, on Sunday, teams and drivers will head to the famed Imola, all hoping to win this year's Emilia Romagna Grand Prix.
Monday 18th April 2PM GMT/7:30PM Local Time
Brabourne Stadium, Mumbai
With both the Rajasthan Royals and the Kolkata Knight Riders further down the IPL standings than they would have hoped at this stage in the season, this an important game for both teams. Which team will recover from their previous losses and take the win in this hotly anticipated matchup?
Merchandise: Fancode Shop
News: Indian Premier League
News: Cricbuzz
Videos: Indian Premier League
Statistics: ESPN Cricinfo
News: Cricket Times
Tuesday 19th April 7PM GMT/8PM Local Time
Anfield, Liverpool
Sat second in the Premier League standings, Liverpool will be desperate to win this game and close the gap between them and the top of the table. Jürgen Klopp's side are in form having beaten Manchester City 3-2 in their FA Cup Semi-final and will look to continue this run of form on Tuesday at Anfield.
Merchandise: Manchester United
Merchandise: Liverpool
News: BBC Sport
Statistics: Premier League
Fantasy: Fantasy Premier League
Videos: Premier League
Wednesday 20th April 6:45PM GMT/7:45PM Local Time
Stamford Bridge, London
Wednesday sees another important and exciting Premier League game, as Chelsea play host to Arsenal. Arsenal will be keen to recover from a string of recent losses and take the win Stamford Bridge, but will undoubtedly be pushed hard by Chelsea who will be full of confidence having reached the FA Cup Final on Sunday.
Merchandise: Chelsea
Merchandise: Arsenal
News: BBC Sport
Statistics: Premier League
Fantasy: Fantasy Premier League
Videos: Premier League
NBA: Minnesota Timberwolves v Memphis Grizzlies
Thursday 21st April 11:30PM GMT/6:30PM Local Time
Target Center, Minneapolis
The Minnesota Timberwolves took the win 130-117 against the Memphis Grizzlies in their playoff opener, their first time winning an opening playoff game since 2004. The Grizzlies will be desperate to regain the form they found in the regular season and take back the series lead this week. Who will progress to the Western Conference Semifinals?
Official site: NBA
Merchandise: NBA Store
Viewing: NBA TV
Podcast: ​​Open Floor: NBA Show
Blog: Canis Hoopus
Blog: Grizzly Bear Blues
NHL: Edmonton Oilers v Colorado Avalanche
Friday 22nd April 1AM (23rd) GMT/7PM Local Time
Rogers Place, Edmonton
This matchup between the Edmonton Oilers and Colorado Avalanche is hotly anticipated and one fans will be excited to watch. As the regular season draws to a close, the Oilers are closing in on a playoff spot whereas the Avalanche have secured a playoff berth already, meaning that this game could be a good indicator of how things might shape up later in the competition.
Viewing: NHL Live
News: NHL
Fantasy: NHL Fantasy
Merchandise: NHL Shop
Blog: Copper and Blue
Blog: Mile High Hockey
Boxing: Tyson Fury v Dillian Whyte
Saturday 23rd April 9PM GMT/10PM Local Time
Wembley Stadium, London
Tyson Fury will put his WBC Heavyweight Belt on the line as he goes toe to toe with Dillian Whyte at Wembley on Saturday. With suggestions Fury might retire after the fight, this is not one to miss. Can the Gypsy King defend his Heavyweight title?
Merchandise: Tyson Fury
News: Give Me Sport
News: British Boxing News
News: BBC Sport
Statistics: BoxRec
Viewing: Sky
Formula 1: Emilia Romagna Grand Prix
Sunday 24th April 1PM GMT/3PM Local Time
Autodromo Internazionale Enzo e Dino Ferrari, Imola
After an exciting race at Albert Park, teams and drivers travel north for the Emilia Romagna Grand Prix this weekend. With Ferrari and Charles Leclerc seemingly unstoppable to date, will the Tifosi be treated to another win for Mattia Binotto's Scuderia Ferrari?
Viewing: Formula 1 TV
News: Planet F1
Merchandise: Formula 1 Store
Statistics: Stats F1
Fantasy: F1 Fantasy
Blog: Scuderia Fans
Photo by: Tyson Fury
Written and information correct on 17th April 2022 at 10pm GMT
Use the full Fixture Calendar website to explore all the world's sporting events.