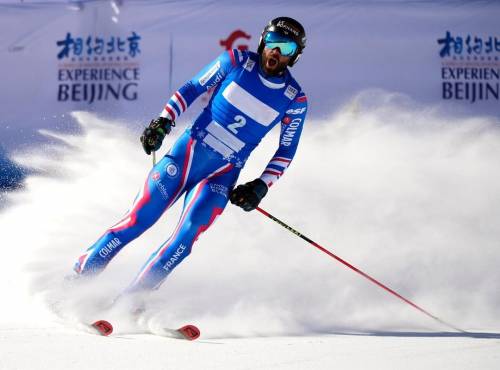 After another incredible week of sport, January draws to a close this week. However, February is shaping up to be an exciting prospect for sports fans, including the first 6 days. On Monday, the Detroit Red Wings take on the Anaheim Ducks in the NHL. The following day, at the Footprint Center, the Phoenix Suns play host to the Brooklyn Nets.
On the other side of the Atlantic, Wednesday sees the Scottish Premier League Old Firm Derby, as Celtic go head-to-head with Rangers. The next day, the AT&T Pebble Beach Pro-Am begins, with tour card holders and amateurs going up against one another in the pairs events.
Arguably the biggest event of the week takes place on Friday, as Beijing 2022 begins with the opening ceremony held at the Beijing National Stadium. Saturday will see the first games of this year's Six Nations Championship and the last day of the week marks the conclusion of the Africa Cup of Nations. Who will take the title?
NHL: Detroit Red Wings v Anaheim Ducks
Monday 31st January 12:30AM (1st) GMT/7:30PM Local Time
Little Caesars Arena, Detroit
The Detroit Red Wings play host to the Anaheim Ducks on Monday. The Red Wings will be keen to take a win in this game following their 4-7 loss to the Maple Leafs on Saturday. However, the Ducks will be tough to beat having won their last 2 games.
Viewing: NHL Live
News: NHL
Fantasy: NHL Fantasy
Merchandise: NHL Shop
Blog: Winging it in Motown
Blog: Anaheim Calling
NBA: Phoenix Suns v Brooklyn Nets
Tuesday 1st February 3AM (2nd) GMT/8PM Local Time
Footprint Center, Phoenix
This matchup between the Nets and the Suns, who sit at the top of the Western Conference's table, is not one to miss. Having played a total of 93 regular season games in NBA history, the teams are all but equal in head-to-head victories. The Suns lead the Nets by 1 win, having won 47 games to the Nets' 46.
Official site: NBA
Merchandise: NBA Store
Viewing: NBA TV
Fantasy: Yahoo NBA Fantasy
Blog: Bright Side of the Sun
Blog: Nets Daily
Wednesday 2nd February 7:45PM GMT/7:45PM Local Time
Celtic Park, Glasgow
Sat 1st and 2nd respectively, Rangers travel across Glasgow to face Celtic in what is shaping up to be an epic Old Firm derby. With both teams having won 17 games this season, there is little to choose from between the two sides. Who will take the win?
Official Site: SPFL
News: SPFL
News: Transfer Tavern
Fantasy: SPFL Fantasy
Statistics: Soccer Stats
News: Daily Record
PGA Tour: AT&T Pebble Beach Pro-Am
Thursday 3rd February 4PM GMT/8AM Local Time
Pebble Beach Golf Links, Del Monte Forest
The biggest Pro-Am of the year returns to its classic 3 course setup this week, with players and amateurs alike playing the famous Pebble Beach, Spyglass Hill and Monterey Peninsula golf courses. Danial Berger will be looking to win back to back titles and become the first player to do so since Dustin Johnson took consecutive wins in 2009/2010.
Official site: PGA Tour
Merchandise: PGA Tour Fan Shop
News: The Golf News Net
Fantasy: Fantasy Golf
Podcast: PGA Tour Podcasts
News: Golf Digest
Friday 4th February 11:30AM GMT/7:30PM Local Time
Beijing National Stadium, Beijing
Beijing 2022 begins on Friday, with the opening ceremony being held at the National Stadium almost 14 years after the same stadium played host to the start of the 2008 Summer Games. Nearly 3,000 athletes will battle it out for just over 2 weeks, all hoping to take home medals for their countries.
Official Site: Beijing 2022
Fantasy: Beijing 2022
Podcast: Olympics
News: The Guardian
Statistics: Bloomberg
News: BBC Sport
Saturday 5th February 4:45PM GMT/4:45PM Local Time
Murrayfield Stadium, Edinburgh
The second of Saturday's opening Six Nations games, will see a historic rivalry renewed as Scotland host England at Murrayfield. Scotland will look to build on their strong performance in the Autumn Nations Series, but face a strong England side masterminded by Eddie Jones. Who will win the Calcutta Cup?
Official Site: Six Nations
Fantasy: Six Nations
Podcast: Brian Moore's Full Contact Rugby
Blog: Scottish Rugby Blog
Blog: Ruck
News: ​​inews
Sunday 6th February 7PM GMT/8PM Local Time
Olembe Stadium, Yaoundé
The Africa Cup of Nations comes to a conclusion on Sunday with the final taking place at the Olembe Stadium in Cameroon. The home team look formidable having taken the top spot in Group A and confidently winning their quarter final 2-0 against Gambia. A win for Cameroon would take them one short of Egypt's record number of titles.
News: The Guardian
Statistics: FB Ref
Blog: Africa Confidential
News: Sky Sports
Merchandise: UK Soccer Shop
News: Sky Sports
Photo by: Beijing 2022
Written and information correct on 30th January 2022 at 10pm GMT
Use the full Fixture Calendar website to explore all the world's sporting events.