This Week in Sport: 7th February − 13th February 2022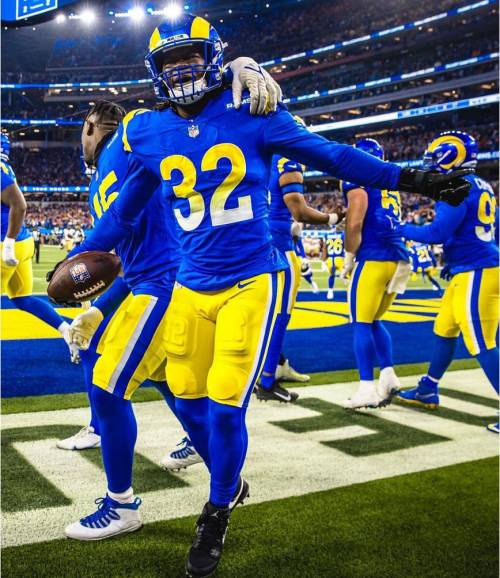 Fans will once again be treated to a great 7 days of sport this week. On Monday, the Toronto Maple Leafs play host to the Carolina Hurricanes, in what will be an exciting game for NHL fans. The following day athletes will battle it out for medals in the inaugural Women's Big Air event. Wednesday will see the Utah Jazz take on the Golden State Warriors.
Thursday marks the start of this year's Super League season, with last year's finalists going head-to-head in the first game of the season. The next day, back in Beijing, the Men's Snowboard Halfpipe reaches its conclusion.
The weekend also plays host to some immensely exciting sport. Ireland travel south to the Stade de France, to take on France in the second round of the Six Nations. Finally, on Sunday, sports fans will be treated to one of the biggest sporting events of the year, as the Los Angeles Rams go up against the Cincinnati Bengals in Super Bowl LVI.
NHL: Toronto Maple Leafs v Carolina Hurricanes
Monday 7th February 12AM (8th) GMT/7PM Local Time
Scotiabank Arena, Toronto
The Carolina Hurricanes travel north and across the border to take on the Maple Leafs on Monday. Both teams are on the biggest winning streaks in their respective divisions, with the Maple Leafs having won 5 consecutive games and the Hurricanes 4.
Viewing: NHL Live
News: NHL
Fantasy: NHL Fantasy
Merchandise: NHL Shop
Blog: Pension Plan Puppets
Blog: Canes Country
Olympics: Olympic Freestyle Skiing
Tuesday 8th February 2AM GMT/10AM Local Time
Big Air Shougang, Beijing
Tuesday sees the final of the Women's Big Air event, part of the Beijing 2022 freestyle skiing program. This year's games are the first in history to feature this event, and it will be one fans do not want to miss.
Official Site: Beijing 2022
Fantasy: Beijing 2022
Podcast: Olympics
News: Reuters
Statistics: Bloomberg
News: NBC Olympics
NBA: Utah Jazz v Golden State Warriors
Wednesday 9th February 3AM (10th) GMT/8PM Local Time
Vivint Arena, Salt Lake City
With the Utah Jazz and the Golden State Warriors sat 2nd and 4th in the NBA's Western Conference, this is an exciting match up. The Jazz will be keen to take the win after losing their last 4 games to the Warriors.
Official site: NBA
Merchandise: NBA Store
Viewing: NBA TV
Fantasy: Yahoo NBA Fantasy
Blog: SLC Dunk
Blog: Golden State of Mind
Super League: St Helens v Catalans Dragons
Thursday 10th February 8PM GMT/8PM Local Time
Totally Wicked Stadium, Saint Helens
This year's Super League season starts as last season finished. St Helens faced the Catalan Dragons in last year's final at Old Trafford, and will be hoping for a similar result in the first round of this year's Super League season.
Official Site: Super League
Fantasy: Fantasy Super League
Blog: Love Rugby League
Podcast: The Sideline Story
Merchandise: St Helens
Merchandise: Catalans Dragons
Olympics: Olympic Snowboarding
Friday 11th February 1:30AM GMT/9:30AM Local Time
Genting Snow Park, Zhangjiakou
Friday sees the final runs of the Men's Snowboard Halfpipe. Shaun White will be competing in his last Olympics and will be looking to defend his title one last time, having won the event in PyeongChang 2018.
Official Site: Beijing 2022
Fantasy: Beijing 2022
Podcast: Olympics
News: Forbes
Statistics: Bloomberg
News: ​​BBC Sport
Saturday 12th February 4:45PM GMT/5:45PM Local Time
Stade de France, Saint-Denis
After victories for both teams in the opening round of the championship, this will be a game fans will not want to miss. France will be hoping to get off to a faster start than they did in their game against Italy, while Ireland won't want to change anything after their crushing win over Wales.
Official Site: Six Nations
Fantasy: Six Nations
Podcast: Brian Moore's Full Contact Rugby
News: Daily Mail
Blog: Ruck
News: Irish Times
NFL: Super Bowl LVI
Sunday 13th February 11:30PM GMT/3:30PM Local Time
SoFi Stadium, Inglewood
The NFL reaches its climax on Sunday, as the Los Angeles Rams take on the Cincinnati Bengals at SoFi Stadium. Playing at their home stadium, the Rams will look to their supporters to carry them to a Super Bowl victory, having struggled in their last appearance, 3 years ago, against the New England Patriots in Super Bowl LIII.
Official site: NFL
Blog: Turf Show Times
Blog: ​​Cincy Jungle
News: ESPN
Viewing: Game Pass
Merchandise: NFL Shop
Photo by: LA Rams
Written and information correct on 6th February 2022 at 10pm GMT
Use the full Fixture Calendar website to explore all the world's sporting events.