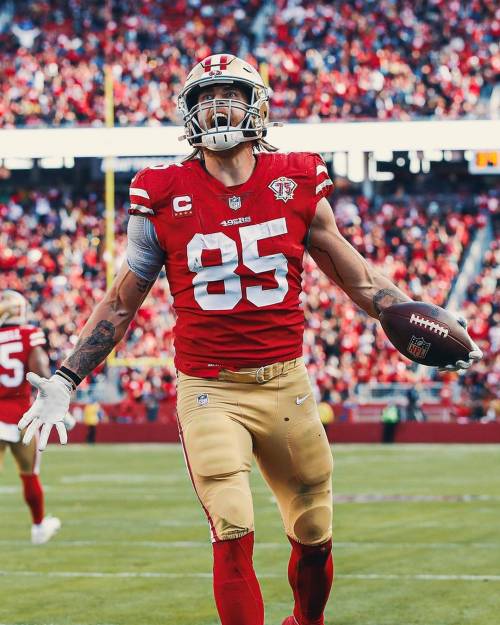 The third weekend of November is setting up to be another exciting week in sport. On Monday the San Francisco 49ers take on the Los Angeles Rams in the NFL. The following day, in the NBA, the Brooklyn Nets take on Steph Curry's Golden State Warriors.
Later in the week, on Wednesday, the winners of the WTA World Tour Finals will be crowned in Mexico. Thursday marks the start of the DP World Tour Finals, where the top 50 players in the race to Dubai ranking and 2 invited players will battle it out for glory. The ATP World Tour Finals continue on Friday as the round robin stage comes to a close.
The weekend also shapes up well for sports fans. On Saturday Liverpool host Arsenal at Anfield. On Sunday Formula 1 travels to Qatar for the first time.
NFL: San Francisco 49ers v Los Angeles Rams
Monday 15th November 1:15AM (16th) GMT/5:15PM Local Time
Levi's Stadium, Santa Clara
The 49ers play host to the Rams on Monday. The 49ers will be keen to improve on their slow start to the season. While the Rams will be hoping their new signing, Odell Beckham Jr., lives up to expectations.
Official site: NFL
Blog: Niners Nation
Blog: Turf Show Times
Fantasy: NFL Fantasy
Viewing: Game Pass
Merchandise: NFL Shop
NBA: Brooklyn Nets v Golden State Warriors
Tuesday 16th November 12:30AM (17th) GMT/7:30PM Local Time
Barclays Center, New York
With both teams towards or at their top of their respective conferences, this matchup is shaping up to be an exciting encounter. Can the Warriors bounce back from their recent loss to the Hornets?
Official site: NBA
Merchandise: NBA Store
Viewing: NBA TV
Fantasy: Yahoo NBA Fantasy
Blog: Nets Daily
Blog: Golden State of Mind
Tennis: WTA World Tour Finals
Wednesday 17th November 11PM GMT/5PM Local Time
Panamerican Tennis Center Guadalajara, Zapopan
Wednesday sees the culmination of the WTA World Tour Finals in Mexico. With the finalists anything but certain, it remains to be seen who will be crowned the winner of this season's finale.
Official Site: WTA Tennis
Statistics: Core Tennis
News: WTA Tennis
Podcast: The Tennis Podcast
Video: YouTube
News: Reuters
European Tour: DP World Tour Championship Dubai
Thursday 18th November 3AM GMT/7AM Local Time
Jumeirah Golf Estates, Dubai
The top 50 players in the Race to Dubai rankings and 2 invited players will battle it out for glory. Can Colin Morikowa or Billy Horshel, ranked 1st and 2nd in the ranking respectively, finish their extraordinary seasons with a win in the biggest event on the European Tour? Or will one of the other 50 players take the title?
Official Site: European Tour
Fantasy: Fantasy Race
News: The Golf News Net
News: European Tour
Podcast: Life on Tour
News: Sky Sports
Tennis: ATP World Tour Finals
Friday 19th November 10:30AM GMT/11:30AM Local Time
Pala Alpitour, Torino
Friday marks the end of the round robin stage of the ATP Tour Finals, with the world's top 8 players battling it out for a spot in the semifinals. Going for his 6th title, Novak Djokovic will be hoping his experience stands him in good stead against the likes of Daniil Medvedev and Stefanos Tsitsipas.
Official Site: ATP Tour
Merchandise: Tennis Point
News: ATP Tour
Podcast: The Tennis Podcast
Blog: Universal Tennis
News: Last Word on Sports
Saturday 20th November 5:30PM GMT/5:30PM Local Time
Anfield, Liverpool
Sat 4th and 5th in the Premier League table respectively, Liverpool and Arsenal will both be keen to win and move 3 points closer to top of the table Chelsea. Can the Gunners come away with a win after 2 draws on the bounce?
Merchandise: Liverpool
Merchandise: ​​Arsenal
News: BBC Sport
Statistics: Premier League
Fantasy: Fantasy Premier League
Videos: Premier League
Sunday 21st November 2PM GMT/5PM Local Time
Losail International Circuit, Al Daayen
Formula 1 travels to Qatar for the first time this weekend, as this year's titanic battle for the drivers' and constructors' title continues. Lewis Hamilton will hope he can back up an inspired drive in Brazil with another win in Qatar.
Viewing: Formula 1 TV
News: Planet F1
Merchandise: Formula 1 Store
Statistics: Stats F1
Fantasy: F1 Fantasy
Blog: GP Blog
Photo by: 49ers
Written and information correct on 14th November 2021 at 10pm GMT
Use the full Fixture Calendar website to explore all the world's sporting events.