This Week in Sport: 23rd October − 29th October 2023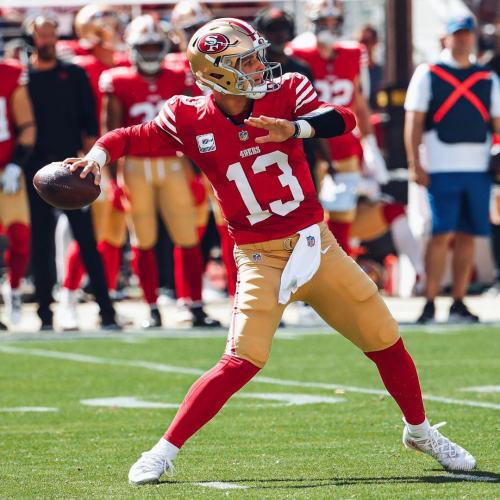 There are some exciting sporting events taking place throughout the upcoming week. On Monday, the Minnesota Vikings host the San Francisco 49ers in the NFL, Tuesday sees the new NBA season get underway, as the Denver Nuggets take on the Los Angeles Lakers, and Newcastle United face Borussia Dortmund in the UEFA Champions League on Wednesday. On Thursday, the WTA Elite Trophy continues, and the MLB World Series begins on Friday.
Heading into the weekend, the Rugby World Cup Final will take place on Saturday, as New Zealand go head-to-head with South Africa, and Premier League action rounds out the week, as Manchester United host rivals Manchester City.
Monday 23rd October 12:15AM (24th) GMT/7:15PM Local Time
U.S. Bank Stadium, Minneapolis
Monday will see NFL action, as the Minnesota Vikings host the San Francisco 49ers. The visitors will go in as favourites in this matchup, winning five of their first six matches this season, only slipping up to the Cleveland Browns in their most recent match. The Vikings have had a tougher start to the season, only winning two of their first six games, but with both victories coming in their last three games, their form appears to be on the rise.
Tuesday 24th October 11:30PM GMT/5:30PM Local Time
Ball Arena, Denver
The new NBA season begins on Tuesday. The opening match will see reigning NBA champions, the Denver Nuggets, host the Los Angeles Lakers at the Ball Arena. The Nuggets beat the Lakers 4-0 in last season's Conference Finals and come into the new season looking for their second ever title.
Wednesday 25th October 7:00PM GMT/8:00PM Local Time
St James' Park, Newcastle upon Tyne
The UEFA Champions League continues this week, and Wednesday will see Newcastle United host Borussia Dortmund at St James' Park. The hosts will be happy with their start to their first UCL campaign since 2002/03, drawing 0-0 with AC Milan and beating PSG 4-1 last time out, a result which would have surprised a lot of people. The visitors, on the other hand, have not enjoyed a great start to this season's UCL, only earning one point in their first two games.
Thursday 26th October 5:00AM GMT/1:00PM Local Time
Hengqin International Tennis Center, Zhuhai
On Thursday, day three of the WTA Elite Trophy will take place at the Hengqin International Tennis Center in Zhuhai. The Singles competition begins on Tuesday and will see the 11 highest ranked players who didn't qualify for the WTA Finals compete, in addition to a wild card slot. Favourites for this year's competition include Barbora Krejčíková, Madison Keys, and Jeļena Ostapenko. There is a Doubles competition too, featuring six teams.
Friday 27th October 12:03AM (28th) GMT/7:03PM Local Time
Globe Life Field, Arlington
Friday will see the MLB World Series begin, a seven-game series to decide this year's best MLB side. The League Championship Series are still undecided, with both matchups going down to the wire. The series between the Houston Astros and the Texas Rangers currently sits at 3-3, with a deciding match taking place on Monday, whilst the Philadelphia Phillies are currently leading their series against the Arizona Diamondbacks 3-2.
Saturday 28th October 7:00PM GMT/9:00PM Local Time
Stade de France, Saint-Denis
The Rugby World Cup comes to its conclusion on Saturday, with the final taking place at the Stade de France. The deciding match will see defending champions South Africa go up against New Zealand, with the winners becoming the most successful side in Rugby World Cup History, with both currently sitting on three tournament wins. New Zealand made their Semi-Final look comfortable, beating Argentina 44-6, whilst South Africa had to battle hard to get past England, with a late penalty enough to beat their opponents 16-15.
Sunday 29th October 3:30PM GMT/3:30PM Local Time
Old Trafford, Manchester
The Manchester derby rounds out the week, as Manchester United host Manchester City at Old Trafford in the Premier League. United have had a rather disappointing start to the season, sitting eighth after nine games, whilst their rivals sit top of the table. City have made a great start to the season and will want to keep pushing to win their fourth consecutive Premier League title, but with two losses in their last three games, United will see this as a great chance to cause an upset.
Photo by: San Francisco 49ers
Written and information correct on 23rd October 2023 at 6AM GMT
Use the full Fixture Calendar website to explore all the world's sporting events.