Olympic Sports
Welcome back to Fixture Calendar's Olympic sports series. This week, we'll be looking at some of the lesser-known ball sports which will feature at the Tokyo games: the events, the medal contenders and why you should watch.
Badminton has featured as a medal sport at every Olympics since 1992. In Tokyo, there will be men's and women's singles and doubles, as well as a mixed doubles competition. Historically, this has been a sport in which the Chinese have excelled, winning 2 of the 5 gold medals on offer at Rio 2016, having won all 5 Badminton golds at London 2012. Badminton is an exciting, fast-paced and tactical sport, which requires agility, speed and power. Following a short preliminary stage, the medals will be decided via a knockout competition.
In the Women's Singles, Carolina Marín (ESP) will be hoping to defend her gold medal from Rio. She started 2021 strongly by winning the Thailand Open, beating Taiwan's world number one Tai Tzu-ying in the final. Tzu-ying will herself be hoping to win an Olympic medal for the first time, having twice gone out in the round of 16. In the Men's Singles, Rio silver medallist Viktor Axelsen (DEN) will be looking to medal, and seems to have started 2021 in good form, although Chen Long (CHN) will be looking to win Olympic gold again.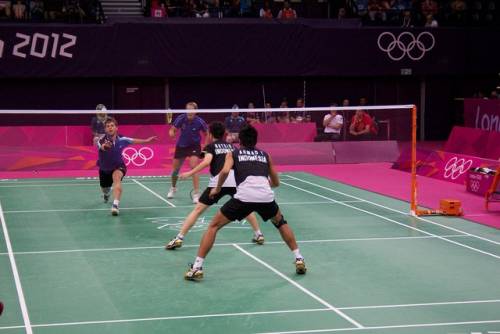 China won the Men's Doubles at both the 2012 and 2016 Olympics Games, and their representatives will likely be the favourites for gold again this year. Regarding the Women's Doubles, at Rio 2016, the Japanese pair of Matsutomo and Takahashi ended China's streak of 5 consecutive gold medals. Takahashi has now retired and there are multiple pairings who have a good chance to medal, so this is guaranteed to be close and exciting throughout. The Mixed Doubles has not seen the Chinese dominance that other disciplines have, and we can expect this event to be wide open yet again.
Baseball and Softball will feature at the Olympic Games for the first time since 2008, and there will be 6 teams competing in each sport. Baseball will be contested by men, and Softball by women.
In the Baseball tournament, teams will be split into two pools of 3, and the group standings will be determined in a double round robin, before a double elimination bracket decides the medal places. The exact list of competing teams is yet to be finalised, but historically, this has been a sport in which the Cuban teams have found success, winning 3 golds and 2 silvers in baseball's previous Olympic appearances. We naturally associate baseball with the USA, and despite there being no current MLB players in their roster (the Olympics clashes with the MLB season), they will be looking to join Mexico, South Korea, Israel, and Japan in qualification before competing for a medal in Tokyo.
There will be six teams in the Softball competition and the medals will be decided by a single round robin, followed by gold and bronze medal matches. Softball is a sport similar to baseball but played on a smaller field with a larger ball, and with underarm pitches which makes it faster-paced, but just as tactical. The United States has been the most successful Softball country, winning 3 of the 4 previous golds. Come July, they will be competing against Australia, Mexico, Canada, Italy, and Japan (the only other country to have ever won Olympic gold) for the medals.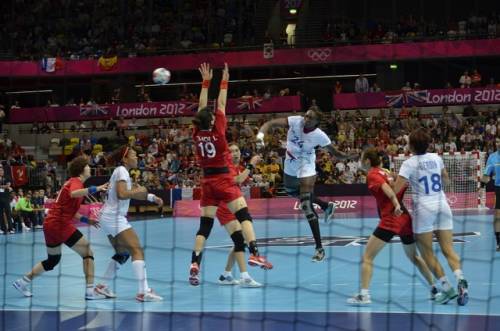 Handball will make its 14th appearance as a men's competition and 12th appearance as a women's competition. Whilst the events have seen a variety of winning nations, there have been some periods of dominance; Denmark won 3 consecutive women's golds in 1996-2004, whilst in 2012 France became the first country to defend their men's title before losing to Denmark in the 2016 final. Handball is a fast and physical game which is exciting to watch and produces high scoring matches. It is played on an indoor court which is similar to a football pitch. At each end there is a 6 metre semi-circle in which only the goalkeeper is allowed. Each player can hold the ball for only 3 seconds and 3 steps before they must pass, dribble, or shoot.
In the Men's Handball, Denmark will be looking to retain their 2016 Olympic title. They won the 2019 World Championship, although they will face challenges from the other high-seeded teams Norway, Sweden, and France. In the Women's Handball, Russia will be looking to defend their Olympic title from Rio, although they will need to be at their best, being seeded only 3rd behind the Netherlands (2019 World Champions) and Spain.
Table Tennis, like badminton, has been dominated by Chinese athletes in recent years. A fast-paced sport, it is often noted for long rallies where one player attacks aggressively whilst the other staunchly defends. At Tokyo, there will be 4 table tennis events, men's and women's singles and men's and women's team, where teams of 3 play a series of singles and doubles matches until one team has won 3 individual matches. China won every gold on offer at the Rio games, as well as silver in both men's and women's singles. With many of their athletes returning for Tokyo, including men's gold medallist Ma Long, it is hard to look past them for the medals.
Beach Volleyball at the Tokyo games will take place in a temporary stadium in Shiokaze Park which overlooks Tokyo Bay. 24 teams of 2 will play in both Men's and Women's competitions. In addition to the great surroundings, beach volleyball is quick (each team only gets 3 touches at a time), easy to understand, and exciting to watch. Beach volleyball has been an Olympic sport since 1996, and Brazil has won at least one medal at each Games. The Olympics is widely regarded as the pinnacle of the sport, and competition is sure to be intense.
The Men's Beach Volleyball at Rio 2016 was won by the Brazilian duo of Cerutti-Schmidt, but they will not be competing together this year, which may open up the competition for other nations, including the Norwegian world number 1s Mol and Sørum. The Women's Beach Volleyball in Rio was won by the German pair of Ludwig-Walkenhorst, but Walkenhorst has since retired as a result of injuries. The leading Brazilian pairings should not be overlooked for a medal, nor should the Canadian pair of Pavan-Melissa, who are the current world number 1s.
Volleyball is played with 6 players per team, of whom three are at the net and three at the back. Each time a team wins a point, it wins back the serve and their players must rotate position.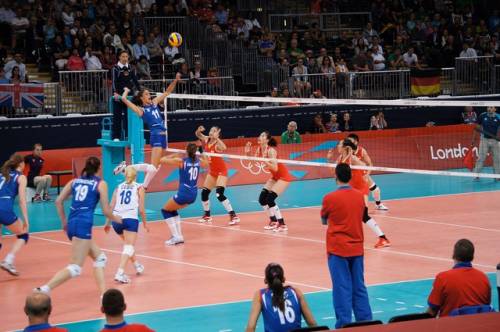 Men's Volleyball is a sport in which no country has ever seen sustained dominance. At Rio 2016 Brazil won their third Volleyball gold medal, and having also won the 2019 World Cup series, they will be strong medal favourites. In the Women's Volleyball, it is harder to predict an exact favourite. China won gold in Rio, and are number 1 in the world rankings, although the USA is close behind. Serbia won the 2018 World Championships, beating Italy in the final, so this is sure to be an event with lots of close games!
There are many exciting ball sports to watch at the Tokyo games, and you will have to tune in both to find out who wins and perhaps discover a new sport to follow! Be sure to use Fixture Calendar to follow your favourite sports throughout the year!
Callum Farnden, June 2021
Photos by Ian Patterson, Los Bandito Anthony, CDE Photos