Olympic Sports
Welcome back to Fixture Calendar's Olympic sports series. This week, we'll be looking at Equestrian sports: the events, the top competitors, and why you should watch them in Tokyo.
Equestrian sports have appeared at every summer Olympics since 1912, however, until 1952 the Equestrian events were only open to military officers. Despite the delay in opening the event to all athletes, Equestrian is the only Olympic sport where men and women compete against each other across all events.
Within Equestrian sports, the Olympics has three disciplines: Dressage, Show Jumping, and Eventing. Each discipline has both an individual and team event. While many countries have sent excellent athletes across the various disciplines, Germany has dominated across all three, currently holding the record for the most Olympic Gold medals in Equestrian events, and will be hoping to continue that tradition. Equestrian sports are growing and excitingly there are several Olympic debutants this summer with Israel, Latvia, Luxembourg, Malaysia and Sri Lanka all expecting to field athletes in Tokyo.
Dressage is often compared to ballet since the precision, poise and accuracy required by both horse and rider is similar to a dance. Individual riders have the opportunity to perform three separate tests within this competition. The first two tests, the Grand Prix and the Grand Prix Special, act as qualifiers for the final test, the Grand Prix Freestyle. Within all three tests, the horse and rider are judged on a scale from 1 to 10 based on the accuracy and correctness of each individual movement. At the end, scores are converted to a percentage with 100 being the best possible score.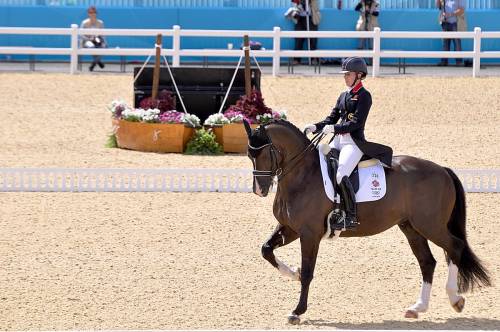 In Team Dressage, scores are decided by adding the individual team member's scores. The 8 highest scoring teams from the Grand Prix are able to move onto the Grand Prix Special. The Grand Prix special is used to determine the team medals and is performed to music of the rider's choice. Germany, having won at Rio in 2016 and the FEI European Championships in 2019, will be the favourites to win again in Tokyo. Great Britain won Gold in London in 2012 and silver in Rio and will be looking to challenge the German dominance.
The Individual Dressage event uses the same scores from the team tests to determine the top 18 riders who then qualify for the Grand Prix Freestyle. The Grand Prix Freestyle is performed to music and, unlike the first two, is choreographed by the riders. Charlotte Dujardin (GBR) won this event in 2012 and 2016 on her horse Valegro. While she would normally be a favourite to win again, Valegro has recently retired and other competitors such as Isabell Werth (GER), who placed second at Rio, will be looking to stop her making it 3 Golds in a row.
In Show Jumping, horses and riders are asked to complete a timed course of somewhere between 10 and 15 jumps which can be as tall and wide as 2 metres. Riders are penalized for the number of rails that are hit or knocked down, the number of refusals and the number of seconds that they go over the decided optimal time for the course. Ties are broken by competing in a jump-off where penalties are given for the same mistakes and all else equal, the fastest time wins. Of the Equestrian events, Show Jumping is the only one for which Individual and team competitions are held completely separately of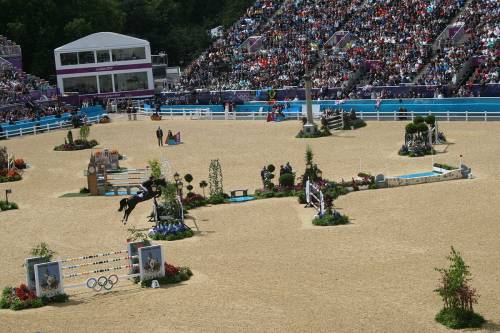 one another.
Individual Show Jumping takes place first and scores are decided on the rider's completion of two different courses. The first course acts as a qualifying round where the top 30 riders move on to the second course and ties are settled by a jump-off. While defending champion Nick Skelton (GBR) will not be competing in Tokyo, there will be many other strong contenders returning and hoping to claim his title.
Team Show Jumping follows a similar format, where riders from the top 10 teams are able to move on to the final course. Individual scores are added up to determine the team scores. If a rider is eliminated or unable to complete the first course, the team is penalized and the score is determined by the two remaining rider's scores. If two or more riders from a team do not complete the first course, the team is eliminated. In the final, teams are again scored on the aggregate of all their individual scores and ties are resolved in a jump-off. France are the defending champions in this event, however they will have to fight hard to beat Germany, who won silver ahead of them in the 2019 European Championships, as well as the US team who finished just behind France at Rio 2016.
Three-Day Eventing or Eventing is one of the most demanding competitions that the Equestrian sports have to offer. Horses and riders are required to be competent in dressage, cross country, and show jumping. Falling short in just one of these three disciplines could bring a rider's hopes for an Olympic medal crashing down.
Dressage is the only phase within Eventing where horse and rider are judged on poise and ease of movement. Unlike the dressage event, riders only complete one test and do not have the opportunity to write their own. This first phase is judged the same as the dressage event, except that once scores are added up, the percentage is inverted so that lower scores are optimal. Penalties accumulated in the two final phases are added onto this score.
In the Cross-country phase, horses and riders must clear a course of obstacles which can be up to 4 miles long and contain 40 obstacles up to 1.4 metres high and wide. Jumps tend to be very solid and resemble natural obstacles such as stone walls, logs, wood tables and ditches. Riders are penalized for not completing the course within the set amount of time and for refusals that they may have on course. A refusal results in a hefty penalty and a rider is eliminated if they have three or more refusals, fall off their horse while on course or jump obstacles out of order.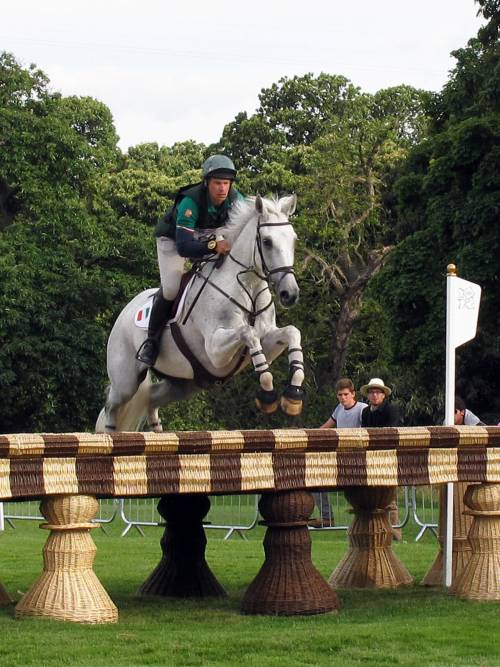 Show Jumping is the final phase in the eventing competition. Horses and riders are required to have precision and speed while completing a jump course of 9 to 12 obstacles up to 1.25 metres high. Similar to cross-country, competitors are penalised for refusals and finishing outside of the allocated time in addition to being penalized for knocking over rails.
In Team Eventing each country sends a 4 rider team to compete in all three phases of the eventing competition. Scores for all riders are then added up to determine the team placings and heavy penalties are given for teams containing a rider that did not complete all three phases of the event or was disqualified. The team with the lowest overall score will take the gold. In 2016, France beat Germany to claim gold and will be hoping to do the same in Tokyo. However, Germany got revenge at the European Championships in 2019 and are expected to carry that form to Tokyo.
Individual Eventing placings are awarded to the top 25 horse and rider teams in the team event. After completing the dressage, cross country, and show jumping phases, the top 25 riders will compete in an additional show jumping competition of 9 obstacles up to 1.3 metres high. Each nation is only allowed to enter up to 3 riders in this competition. Michael Jung (GER) will be looking to defend his title from Rio, however, Olympic veteran and 2016 Bronze medallist Phillip Dutton (USA) and others will provide a strong challenge.
There are many exciting equestrian events to watch at the Tokyo games, from the thrilling cross-country events to the elegant and musical sport of dressage. Make sure to tune in to find out who wins and enjoy the nail biting competition that this sport is sure to offer. Use Fixture Calendar to follow your favourite sports in the Olympics and throughout the year!
Harriet Thomson, July 2021
Photos by Wikimedia, Ben Fitzgerald-O'Connor, Simonimages